This post contains links that, if you click on them and make a purchase, will earn me money. Regardless, I only recommend products or services that I believe will be good for my readers. Thanks for helping me continue to produce great content!
I've been wanting to try a recipe like this since I saw a similar recipe by Mario Batali, where he cooked pasta in red wine. This sounded delicious to me, but when I read some reviews that said the pasta turned an unappealing purple hue, I decided I'd hold off trying it. So when I ran into this recipe by Cooks Illustrated, where the pasta is cooked in white wine, I was eager to try it, since I figured that would solve the "purple" problem.
"Pasta cooked in wine" is a bit deceptive: it actually only finishes cooking in wine. Most of its cooking occurs in the usual large pot of boiling, salted water. While the pasta is cooking in that big pot of water, you intensify the flavor of the wine by reducing it and introducing some aromatics, like garlic and red pepper flakes. You add the undercooked pasta to the wine reduction, where it absorbs all that delicious wine flavor you've developed, and then finish the sauce with cream and grated Pecorino Romano. Next, briefly steam a delicate green on top of the pasta. And finally, you add texture, color and flavor by sprinkling your plate of sauced pasta and greens with crispy pancetta and toasted pine nuts.
So that's the general idea, and the finished product is so good!
SO good!!!
(Although, I admit, it was much more to MY taste, than to my husband's taste. He liked it, but didn't LOVE it.)
Notes for Changes/Adaptations I Made:
First, in regard to less common ingredients: the recipe called for pancetta, and the one I used came from Whole Foods, pre-sliced and pre-packaged. It was wonderful! I would definitely use it again. You could substitute bacon, easily, but the unique peppery flavor made it worth it to me to seek out the pancetta. The recipe also called for Pecorino Romano, which I happened to have on hand. If you don't have any, you could substitute Parmesan, which has a nuttier flavor. I'd actually be interested in trying this recipe next time with Parmesan instead. (Pecorino Romano is made from sheep's milk, and is much more pungent.)


Second: I didn't have any arugula, which is what the original recipe called for. But I did have a delicate artisanal lettuce that I purchased from Costco called Petite Tango, that looked a bit like frisée. It worked great! I'm not a huge arugula fan, but if you are, you should use it.
Third (and in regard to the wine I chose): The wine I used was a Picpoul de Pinet. Cooks Illustrated recommends a good-quality dry white wine, but to avoid a Chardonnay that is heavy on oaked flavor. The Picpoul de Pinet was dry, with just a hint of sweetness, delicious to sip all on its own. But if I'd make one change to the finished recipe, I'd add about a teaspoon more of sugar to the sauce. Cooks Illustrated mentioned that if the sauce's taste was too sharp, the cook should add up to a tablespoonful of sugar, one teaspoon at a time, according to taste. I added one teaspoon of sugar, which helped the flavor immensely, considering the tartness of the flavor that the wine I had chosen had produced. I was afraid to add too much, and so I think I erred on the side of too much caution. Next time, if it's too tart, I'll add another teaspoon of sugar!
Now, on to my adaptation of Cooks Illustrated recipe for:
Spaghetti al Vino Bianco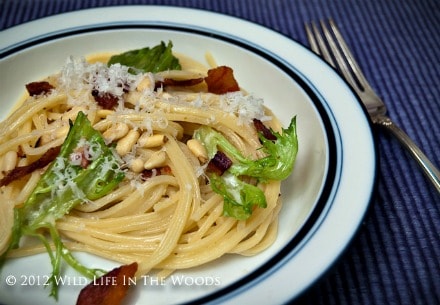 Spaghetti Al Vino Bianco
2017-04-17 08:31:55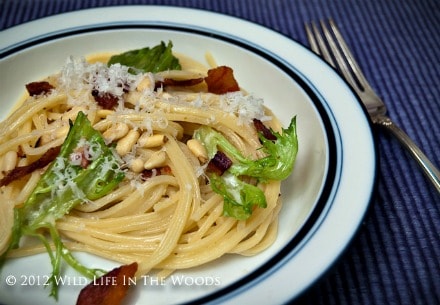 A delicious recipe for pasta, that basically makes its own sauce by being finished in white wine.
Ingredients
1 T. extra virgin olive oil
4 oz. pancetta, cut into 1/4″ pieces
2 garlic cloves, minced
pinch red pepper flakes
1 bottle dry white wine (750 ml)
salt and freshly ground black pepper
sugar (up to 1T. added 1 teaspoonful at a time, if needed)
1 lb. spaghetti
one small head of Petite Tango lettuce (or a comparable delicate green)
1/3 c. cream
1/2 c. grated Pecorino Romano, plus more for serving
1/4 c. toasted pine nuts, chopped coarse
Instructions
Heat oil and pancetta in a 12″ skillet over medium-high heat; cook until pancetta is browned and crisp, approximately 3-5 minutes. Transfer to paper towels to drain. Pour off and discard all but 2 T. fat from skillet.
Return skillet to medium-low heat and add minced garlic and pepper flakes. Stir till garlic is fragrant, about 30 seconds – 1 minute. Carefully add 1 1/2 c. wine and increase heat to medium-high. Cook until wine is reduced to 1/2 c., 8-10 minutes. Add 1/2 t. salt. Taste and season with up to 1 tablespoon of sugar, tasting after you add each teaspoon to see if more is necessary.
Bring 4 q. water to a boil in a large pot. Add pasta and 1 T. salt and cook, stirring often, until pasta is flexible, but NOT fully cooked, about 4 minutes. Reserve 2 c. of pasta water in a measuring cup, then drain pasta.
Transfer pasta to skillet with reduced white wine. Place skillet over medium heat; add 1/2 cup unreduced wine and cook, tossing constantly until wine is fully absorbed. Continue to add remaining wine, 1/2 c. at a time, tossing constantly, until pasta is al dente, about 8 minutes. Add any of the reserved pasta water necessary to keep the sauce as loose as you'd like, or if pasta is still uncooked, but all wine has been absorbed.)
Remove skillet from heat. Place lettuce on top of spaghetti; pour 1/4 c. reserved pasta water over lettuce, cover, and let stand for 1 minute. Add cream and 1/4 c. Pecorino Romano; toss until sauce lightly coats pasta and lettuce is evenly distributed. Season with salt and pepper to taste. Transfer to serving platter and sprinkle with pancetta, remaining 1/4 c. Pecorino Romano, and pine nuts. Serve immediately, passing extra Pecorino Romano separately.
Adapted from Cook's Illustrated
Adapted from Cook's Illustrated
That Susan Williams https://www.thatsusanwilliams.com/
Have you ever tried cooking pasta in wine?