This post contains links that, if you click on them and make a purchase, will earn me money. Regardless, I only recommend products or services that I believe will be good for my readers. Thanks for helping me continue to produce great content!
I have a recipe for a delicious salad to share, and a cookbook to give away! You'll find this recipe in the cookbook: The Unofficial Mad Men Cookbook. Avocado and Crabmeat Mimosa is a salad that was developed by the White House chef to the Kennedy family. The dish is made with two of my most favorite ingredients: avocado, and crabmeat. With the expertise of a White House chef, and ingredients like those, you really can't go wrong!
I have a really fun event to tell you about as well: the Mad Men Finale Virtual Dinner Party! The TV series Mad Men is beginning its final season, and so several bloggers have pooled their talents to share recipes and photographs, (like this one) to celebrate the end of an era!
It's funny how the recipe I've chosen to share ties in perfectly with the show, and with the Kennedy White House. I love it when a recipe has a story, so to share this fabulous dish with you, I thought I would begin by telling you the story I see that connects this recipe to the show itself.

Mad Men is first and foremost a period drama. In each episode, we see the impact of the volatile decade of the 1960's on the lives of the main characters. The series begins, in fact, in March of 1960, during the time in which the Kennedys are running for office.
What was it that drew us so, to Jack and Jackie Kennedy ? They possessed beauty, glamour, and sophistication, as well as wit, ease, style and grace . All these qualities attracted us, as a nation, like moths to the Kennedy flame. The era of their administration was, in many ways, Camelot, incarnate.
What captivated us, more than anything, was the dream – the image we believed we were seeing. Accurate or not, they possessed that special *thing* that so many of us long for. They had, for want of a better word, "it".
Like Jack and Jackie, in the fictional world of Mad Men, Don and Betty Draper looked like the bride and groom cake topper atop the Wedding Cake of Life. With Betty by his side, Don Draper brought the magic of Camelot to Madison Avenue. As a couple, they were imbued with the stuff that Ad Men attempt to crank out from that famous street. Don was handsome, brilliant, powerful, the undisputed lord of the realm, much like President Kennedy in real life. Betty, similar in her patrician beauty to the First Lady, possessed every outward quality needed to be the rightful consort to such a hero. She was the fitting female accessory to drape on Draper's arm.
We're drawn to the glamour of Don and Betty, but it's the hidden frailties of the characters that keep us glued to the storyline. We root for the redemption of the anti-hero who built his house on shifting sand. We see his victimization as a child. In his adult life, we catch glimpses of deep compassion in Don, as he witnesses and identifies with human frailties and failings in others. We are drawn to him in those moments of basic goodness. We long for that side of Don to prevail!
I've spent far too many episodes wishing and hoping for Betty to grow up and become the kind of woman that could truly love and accept Don – the Don I hoped that he might some day grow up to be.
~sigh~
That's not going to happen this season, either, is my guess. I'm betting it's Peggy's turn: that she and Don will discover that they are, indeed, meant to be. She has needed to mature into who she was going to be, and Don has needed to learn to value the kind of woman that could actually make him happy. So…my money's on Peggy, this season, and I'm not afraid to put my prediction out there.
IN THE MEANTIME.. on to the recipe!
We need some great eats to nosh on while we watch the final season of this show. Am I right? Of course, right! So here's my offering for the Virtual Cocktail Party, that is being hosted by the authors of The Unofficial Mad Men Cookbook.
This was such a fun cookbook to look at, and read! I grew up in the sixties and seventies, so many of these recipes were the foods of my childhood. (Chex Party Mix anyone? How about some California Onion Dip?)
I wanted to make something really delicious, because I like *all* my recipes, in fact, to actually BE delicious, and I'm happy to say that this one fit that criterion. When I saw that this recipe had been developed by the White House chef René Verdon, the French chef hired by Jacqueline Kennedy at the White House, I figured it had to be good.
And that's why my thoughts wandered to the Kennedys, as I sat down to share a recipe related to the TV series, Mad Men.

Betty Draper ordered a dish similar to this one in Season 2, episode 1, when she and Don were staying at the Savoy hotel on Valentine's Day. From room service, she ordered an avocado half stuffed with crab meat. As she was ordering her meal, Jackie Kennedy was on TV, giving the nation a televised tour of the White House. See how it all fits together, seamlessly? Jack & Jackie, Don & Betty… and Avocado & Crab – which truly are two of my most favorite foods in the whole world. Elegant, and classic, this recipe is the perfect metaphor for what Don and Betty represent.
The recipe's name, "mimosa", refers not to the orange juice/champagne cocktail with which many Americans are familiar, but to the French name for deviled eggs, which is Oeufs Mimosa (or Eggs Mimosa). Since the topping is made from the yolk of a hard cooked egg, I imagine that's what Chef Verdon had in mind when he gave this recipe its title.
I love the creaminess of the avocado, the brightness of the lemon juice, and the little zing that the horseradish brings to the party. I've never made a salad with watercress before, but I found its delicate crunchiness in absolutely perfect balance with the creaminess of the avocado and mayonnaise.
Fresh crabmeat is the best, but, if you can't afford fresh, (and not many of us can at $20.00 a pound), you can get away with using canned lump crabmeat by using this simple trick that I learned from Cook's Illustrated: drain the crabmeat well – you'll want to get as much of that water out of it as you can, and then soak your crabmeat for about an hour in a cup of milk. Then squeeze the milk out, and the crabmeat is ready to be used in this recipe. It will really cut the fishy smell/taste that canned crab meat has.
I also found that, for seasoning, instead of just salt and pepper, that I enjoyed adding a bit of garlic salt to the egg yolks. (It's the seasoning I typically use when I make guacamole.)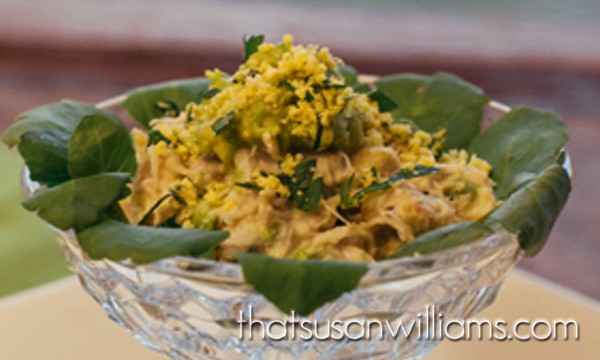 Avocado and Crabmeat Mimosa
2015-03-30 18:24:06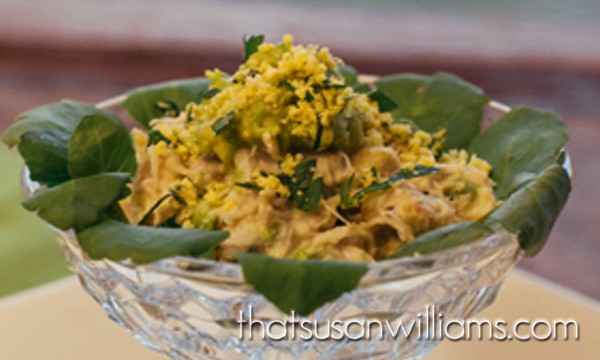 Ingredients
2 ripe avocados
1 scallion, minced
2 teaspoons lemon juice, divided
1/2 teaspoon salt, plus additional to taste
Dash of hot pepper sauce
3 tablespoons mayonnaise
2 tablespoons chili sauce
1 tablespoon prepared horseradish
1/2 teaspoon Worcestershire sauce
Ground white pepper
8 ounces cook fresh crabmeat
2 cups watercress
2 hard-cooked egg yolks
1 tablespoon chopped fresh parsley
Instructions
1. Peel half of one avocado. In a small bowl, mash avocado half. Add scallion, 1 teaspoon of lemon juice, 1/4 teaspoon of salt, and hot pepper sauce. Stir until well combined. Reserve.
2. In separate bowl, stir together mayonnaise, chili sauce, horseradish, Worcestershire sauce, and remaining teaspoon lemon juice. Season to taste with salt and white pepper. Reserve.
3. Peel remaining 1 1/2 avocados, cut into half-inch cubes, and place in a large bowl. Squeeze excess moisture from crabmeat. Add to cubed avocado and gently combine. Fold in mayonnaise mixture until crab and avocado are evenly coated.
4. Line bottoms of 6 chilled, open champagne glasses or small glass serving dishes with watercress. Divide crab mixture evenly among glasses. Top each with a dollop of mashed avocado mixture.
5. Press egg yolks through fine mesh sieve; combine with parsley in a small bowl. Sprinkle yolk/parsley mixture evenly over each portion. Mimosas can be covered and refrigerated for up to 3 hours.
Notes
Crab meat that has a slight fishy odor can be soaked for one hour in a cup of milk, prior to preparing this recipe. This will help neutralize the fishy odor.
I found that a sprinkling of Lawry's Garlic Salt with Parsley really revved up the flavor of the boiled egg yolk and parsley sprinkle.
Adapted from The Unofficial Mad Men Cookbook
Adapted from The Unofficial Mad Men Cookbook
That Susan Williams https://www.thatsusanwilliams.com/

If you'd like to check out some more really great posts and recipes, here's a link to the Mad Men Virtual Dinner Party Page.
If You'd Like To Win a Copy of the Unofficial Mad Men Cookbook:
Leave me a comment that tells me a recipe you think of, when you think of the 1960's.
And, please, share this post with your friends who might enjoy it! Tweet it on twitter! Or, pin the recipe on Pinterest!