This post contains links that, if you click on them and make a purchase, will earn me money. Regardless, I only recommend products or services that I believe will be good for my readers. Thanks for helping me continue to produce great content!
I've been reading the gospel of Luke, lately, because I find that if I don't put good stuff into my brain from time to time, the world can be an awfully dark place. I always pray before I start reading, asking the Holy Spirit to open my mind, and shine His light in there, and help take what my mind gains, and move it on that long journey of 12 inches or so down to my heart. I take scripture in little chunks, probably like a lot of you do, and ask myself 3 questions.
1) What does it say? (Literally – what are the facts, in other words.)
2) What does it mean? (Is this a literal passage? Was the writer trying to pass along a deeper meaning than just the aforestated facts?)
3) What does it mean to me? (Is there a truth here that applies to my life?)
That was a freebie. I just threw that in to let you know my process for reading scripture.
So, anyway, here's the passage I read today, and then I'll throw out a thought that asking those questions brought to mind.
It's from Luke, chapter 2. That's the chapter that we've all heard read a zillion times on the Charlie Brown Christmas special by Linus. That's found in the first part of the chapter. But my reading today comes a little bit further down in the chapter.
(It's interesting reading the story of Jesus through the eyes of Luke, because he tells it with a very specific purpose in mind. Luke was the physician who traveled with Paul, as Paul traveled, sharing the story about Jesus. And if you will remember, Paul is known as the apostle to the Gentiles. Whatever city he entered, Paul went first to the Jews to share the news about Jesus, the promised Messiah, but he also told the non-Jews, the Gentiles, as well. Which, as it turns out, made a radical change in the course of Western Civilization as we know it. But I've meandered a bit from my point, which is, that Luke tells the story of Jesus being clear to point out that it was God's intention all along to bring salvation not just to the Jews through His Messiah, but to the entire world.)
Here's the passage I read today, from the second chapter of the gospel according to Luke:
22 When the time came for the purification rites required by the Law of Moses, Joseph and Mary took him to Jerusalem to present him to the Lord 23 (as it is written in the Law of the Lord, "Every firstborn male is to be consecrated to the Lord"), 24 and to offer a sacrifice in keeping with what is said in the Law of the Lord: "a pair of doves or two young pigeons."
25 Now there was a man in Jerusalem called Simeon, who was righteous and devout. He was waiting for the consolation of Israel, and the Holy Spirit was on him. 26 It had been revealed to him by the Holy Spirit that he would not die before he had seen the Lord's Messiah. 27 Moved by the Spirit, he went into the temple courts. When the parents brought in the child Jesus to do for him what the custom of the Law required, 28 Simeon took him in his arms and praised God, saying:
29 "Sovereign Lord, as you have promised,
you may now dismiss your servant in peace.
30 For my eyes have seen your salvation,
31 which you have prepared in the sight of all nations:
32 a light for revelation to the Gentiles,
and the glory of your people Israel."
33 The child's father and mother marveled at what was said about him. 34 Then Simeon blessed them and said to Mary, his mother: "This child is destined to cause the falling and rising of many in Israel, and to be a sign that will be spoken against, 35 so that the thoughts of many hearts will be revealed. And a sword will pierce your own soul too."
36 There was also a prophet, Anna, the daughter of Penuel, of the tribe of Asher. She was very old; she had lived with her husband seven years after her marriage, 37 and then was a widow until she was eighty-four. She never left the temple but worshiped night and day, fasting and praying. 38 Coming up to them at that very moment, she gave thanks to God and spoke about the child to all who were looking forward to the redemption of Jerusalem.
39 When Joseph and Mary had done everything required by the Law of the Lord, they returned to Galilee to their own town of Nazareth.
So, having told you my method for studying scripture, here's how things kind of went down for me today:
1)What does it say?
I think it's pretty clear what the facts are: Jesus' parents were God fearing Jews who fulfilled the law. They took him to the temple to present him (and to fulfill the laws regarding purification) and while they were there, they ran into two old prophets, a man named Simeon, and a woman named Anna, who both prophesied that this was no ordinary child, and that God had a great purpose for him.
2)What does it mean?
I think you can see the author, Luke, the companion of Paul's intention pretty plainly here. One, he wants to recount the extraordinary incident that happened to Joseph and Mary as they were visiting the temple when Jesus was just a little baby, but also, he is making it clear that God's express purpose for His Messiah, from the get-go, was for Him to be the source of forgiveness and salvation for the WHOLE WORLD, and not just for the Jews.
3) What does it mean to me?
Well, I saw another lesson in this passage that I think had some implications and applications for my own life, and maybe, for your life as well. God's hand was all over this "chance encounter". According to verses 25-27, Simeon had received a promise from God at some point in his life that he would not die before seeing God's long-promised Messiah, and he was led by the Spirit of God to be in the temple courts that day. There were any number of places in Jerusalem he could have been that day, but God wanted him exactly where he was, running into Joseph and Mary in a "coincidental" kind of way. And the same was true for the prophetess Anna, who, although it is said that she never left the temple, could have missed entirely her little meetup in the courtyard. But she didn't. God wanted Joseph and Mary to have this chance encounter. He wanted Mary to be able to recount it someday to Luke, and this passage even tells us that she treasured it in her heart through the years. God wanted Luke to hear it so he would write it down in that account of Jesus' life that God knew he was going to write some day. So that you could hear it, and I could hear it.
In fact, and I'm going to go out on a limb here, but bear with me, I think God just MIGHT have "chance" encounters for each one of us in our lives. Climbing further out on my limb, I'm going to say that sometimes, some of us are the Annas and Simeons, with a word that God wants us to deliver. A word of hope or of encouragement. And sometimes, we're the Joseph and the Mary, and God has worked it out so that we'll run into someone who has something really important to tell us, if we'll only open up our hearts and hear what that person has to say.
I'm fixing to go on a little vacation, to see my fellow Fun Girl, Anne. I'm wondering what divine appointments the Lord might have for me here today, before I leave, and in the airports, as I go, and in the places that Anne and I will visit together, and with the people I will meet while I'm there.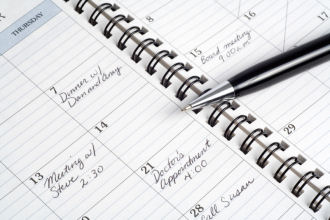 We sure have our own agendas, don't we? Picture from here
And I can't help but have a sense of wonder and expectation about what the Lord might have in store for me as I go.
Are you wondering what divine appointments God might have in store for you?
Don't be afraid to ask Him to give you eyes to see His hand at work.
Yes, He loves you that much. He's your Father, for heaven's sake. 😀 He likes to do that kind of thing for His children!