This post contains links that, if you click on them and make a purchase, will earn me money. As an Amazon Associate, I earn from qualifying purchases. . Regardless, I only recommend products or services that I believe will be good for my readers. Thanks for helping me continue to produce great content!
OK, I wanna start out by saying that in today's post, I will not be talking about this Abba: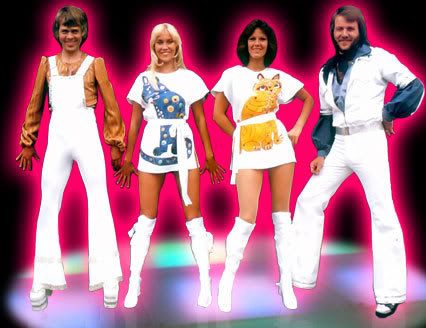 I know this will be a load off the mind of several of you who have lived through the disco era.
Now, if the real, unvarnished truth be told, I actually liked several of their songs, and (don't hate me for this) still do enjoy singing along, especially if I am strapped into a seatbelt, riding shotgun with my best girl-pals, and hurtling up and down the hilly streets of San Francisco with the CD player turned up to stun level.
Honestly, this REALLY wasn't what I intended to write about today, but once I get on a roll, it's hard to stop me.
What I ACTUALLY wanted to talk about today was the word, Abba, which comes from the Hebrew language, and which is the most familiar and intimate form of address that one would use for one's father, comparable to "Daddy", in English. It's found 3 places in the New Testament, one of which is in the book of Galatians, which happens to be the book that we are studying in my Friday morning girls' group. We're doing a Beth Moore study called, "Living Beyond Yourself", which is a study designed to examine living life empowered by the Holy Spirit, as revealed through the book of Galatians. And chances are, in a lot of my upcoming posts, I'll be sharing the thoughts that this study triggers in me.
In Galatians 4:6, Paul is reminding the Galatian believers, most of whom are Gentiles, that despite their non-Jewish origin, because of their faith in Jesus as the Christ, and in his atoning sacrifice on their behalf, they too are Abraham's seed, and heirs of the promises made to the children of God. Paul says, "Because you are sons, God sent the Spirit of his Son into our hearts, the Spirit who calls out, 'Abba, Father.'"In other words, we are so connected to Him, that we have the right to call Him Daddy. I am just amazed by this, when I stop to think about it. And let me tell you why this is so amazing to me.
My husband and I are best friends, and pretty much talk about whatever is going on in our day, or whatever has gone on in the news, or whatever. I love to tell him stories, to get his perspective, and the feeling is pretty mutual. Do you ever swap stories in private with your best friend about something absolutely unbeLIEVable that someone else has gone and done? And shake your head in wonderment about how bad a situation has gotten because of some poor choices that someone has made? The kind of stories that make you shake your head, and say, "Mmmm mmm mmm" and not the "delicious" kind of "mmm mmm mmm" but in the "Can you BELIEVE they went and did that???" kind of way. My dear husband has a colorful expression that he picked up from his friend Billy, that goes like this, "People is no d@mn good". And honestly, it's true, isn't it? Sometimes, I can't believe how terribly rottenly selfish we can be. Has that thought ever crossed your mind, too? Well, the worst part of it is, that as long as we're REALLY telling the truth, you and I fall into the same sad condition, don't we? Haven't you done some things, said some things, that you would be horribly ashamed to have headlining the evening news?
Wait, though, here's the really, really, REALLY good news that believers in Jesus COULD have headlining the evening news, "Because of his great love for us, God, who is rich in mercy, made us alive with Christ even when we were dead in transgressions." (Ephesians 2:4-5) The good news, is that despite the fact that we were no d@mn good, and He KNEW this, he chose to love us, and ADOPT us to be his children ANYWAY!!! "For he chose us in Him before the creation of the world" Wow. And so we are His children, with the right to call Him :"Daddy", "Abba".
And He wants us to walk in that relationship with Him on a daily basis, just like He walked with Adam in the garden in the cool of the day. And He knows what we need before we ever ask Him. But He wants us to ask Him, because He loves us that much, and desires us to know the joy of having a relationship with Him that is intimate, and sweet, and satisfying in our inmost parts.
So, before you run to the phone to share your latest heartbreak, or joy, or need with your dearest friend on earth, take a moment, and talk to your Daddy in heaven, who knows what you need before you ask Him, and who gives good and perfect gifts, and who loved you enough to die for you. And who chose you to be His child, knowing full well what He was getting in to. You are His chosen, treasured possession, His dear one. He keeps your pictures on His refrigerator, cherishing your gifts of love to Him.
Remember when President Bill Clinton had the big banner on his campaign wall that said, "It's the economy, stupid"? Well, my fellow siblings in Christ, "It's the RELATIONSHIP, stupid". It's all about walking in the relationship. That's what He desires, and that's what His Spirit who lives inside of us desires as well. So take some time today, and enjoy that relationship with your Abba.