This post contains links that, if you click on them and make a purchase, will earn me money. As an Amazon Associate, I earn from qualifying purchases. . Regardless, I only recommend products or services that I believe will be good for my readers. Thanks for helping me continue to produce great content!
Best Chicken Recipe Ever: Rao's Chicken Scarpariello is NOT HYPERBOLE. This is my family's new favorite chicken recipe, bar none. You have GOT to try this one!!!
What Does Chicken Scarpariello Mean?
Literally, it means Shoemaker's Chicken in Italian. I think this shoemaker made high end shoes, because this chicken recipe is a bit more expensive than only serving chicken, since you're doubling the protein factor with Italian sausage. BUT IT'S SO WORTH IT!!! I think Chicken Scarpariello really is the Best Chicken Recipe Ever.
You know how good Italian sausages are with roasted peppers and onions? Now add in roast chicken and its juices, and a very special pickled pepper, the Italian Cherry Pepper, and some lovely vinegar, and my dears: it's a meal in one roasting pan that smells DELICIOUS and tastes DIVINE!
A Dish Served at Rao's in NY City
I found this recipe in the New York Times Cooking section, but it originally hails from the very famous Rao's restaurant, which is an Italian-American restaurant, in the Harlem area of New York City. You may have tried their delicious marinara sauce which is now available in grocery stores. It's a little pricey, but has such a wonderful flavor! We love it. (And it's cheaper if you buy it in a two pack at Costco.) It's my go-to sauce for my World's Best and Easiest Lasagna these days.
I have altered Rao's recipe and the New York Time's recipe significantly, omitting 2 sliced jalapeño peppers, but if your family goes for spicy, add those in! I increased the potatoes (they're so delicious in that sauce!).From time to time, I've also added in pepperoncini to good effect.
Order of Preparation: Mise En Place? Not So Much.
There are many dishes in which Mise En Place is the order of the day. (Mise en place is a culinary process wherein all of the ingredients are prepped BEFORE you begin cooking.) But I've made this dish so often lately that I've pretty much figured out where the "down" times are, while you're waiting on something to cook. It's nice to have something to do while you're attempting to be patient and not turn the sautéing item too soon, before it gets that golden brown color on it.
Think of it as cooking "While U Wait".
My Steps:
So here are my steps, listed in order:
Put on a large pot of salted water to boil. Preheat the oven.
While you're waiting for salted water to come to a boil, peel and slice your potatoes.
Put the potatoes in the boiling water to cook.
While you're waiting for the potatoes to cook to fork tender, season the chicken. If the breasts are large, consider slicing them in half, across the widest part of the breast.
Drain the potatoes in a colander in the sink.
Begin cooking the chicken in batches, skin side down, but do not crowd your Dutch oven. This is going to take a while.
While you're waiting for all the chicken to brown, you can begin slicing the peppers, and onions.
When the chicken is browned, remove it to a plate, and brown the Italian Sausages.
While you're waiting for the sausages to brown, mince the garlic.
When the sausages have browned, remove them to a cutting board.
Sauté the peppers and onions. While the veggies are cooking, cut the browned sausages into 1″ chunks.
At the last minute of the peppers and onions cooking time, add the garlic. Sauté for an additional minute.
Now, all the ingredients get added to the Dutch oven (the sausage, cherry peppers, potato slices, broth, wine and vinegar, and oregano. Gently fold all ingredients together.
Take everything in the Dutch oven and pour it into a huge roasting pan. Finally add the reserved chicken pieces, nestling them into all the yumminess you've been cooking up.
If you're lucky, the guests will arrive at this very moment, and you can serve them a glass of wine, and sit around and drool together at the smells coming from your oven.
If you're a more visual person, here's the process:
Cook those potatoes.
They should be just barely tender.
Season the Chicken Well:
Sauté in Olive Oil, Skin Side Down First
Go For The Gold
Veggie Time!
While those chicken thighs and breasts are browning is a great time to chop those peppers and onions.
Brown them Bangers!
While the Sausages are Browning, Mince the Garlic
Sauté the Veg
While the Veggies are Sautéing, Chop up the Sausage.
Add the Sausage Chunks to the Pot.
Add in the Lasties: the Potato Slices and Sweet Cherry Peppers
The Chicken Stock:
The Wine:
The Vinegar:
Dust Everything with Oregano:
Dump It All in a Big Roasting Pan:
Add the Chicken and Roast It!
The BEST Chicken Recipe Ever: Rao's Chicken Scarpariello
Best Chicken Recipe Ever: Rao's Chicken Scarpariello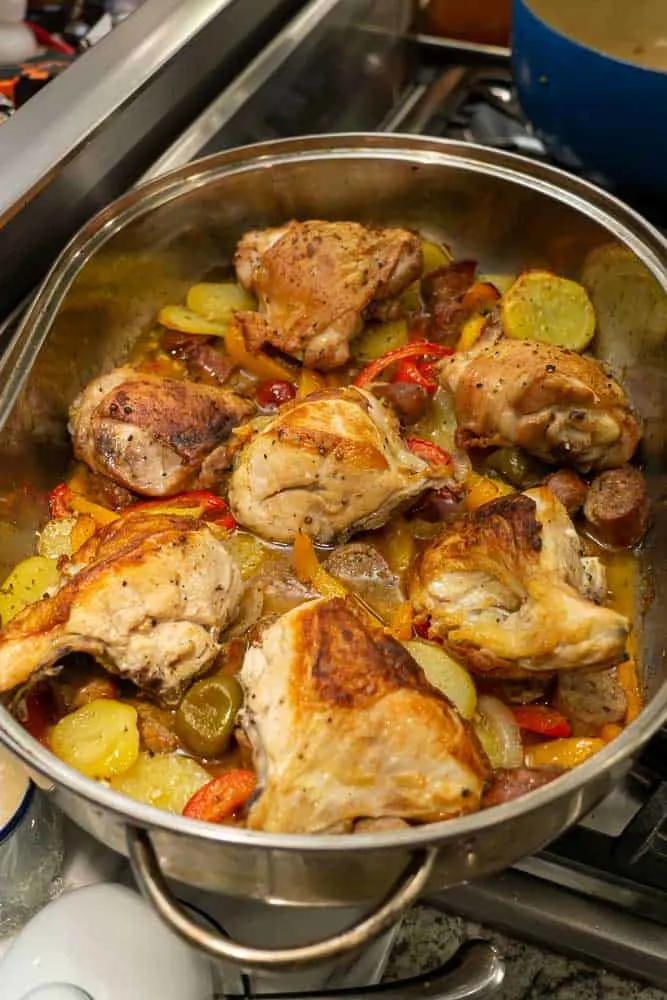 Total Time
1 hour
30 minutes
Ingredients
3 lbs. chicken breasts and thighs (bone in, skin on)
1 teaspoon sea salt
1 teaspoon freshly ground black pepper
2 Tablespoons olive oil
1 lb. sweet Italian Sausage
2 large bell peppers (red and orange)
1 large onion, cut in half and sliced in half moons
2 teaspoons minced garlic
8 sweet vinegared cherry peppers, whole
4 potatoes, peeled and sliced and boiled till just tender
1/2 cup chicken broth
1/2 cup dry white wine
1/4 cup red wine vinegar
1 tablespoon dried oregano leaves
Instructions
Put on a pot of water to boil, salted with 1 teaspoon of salt.
Preheat oven to 400º.
When water boils, boil potato slices for approximately 10 minutes, or until just tender.
Drain potatoes in colander.
Season chicken pieces with salt and pepper. Heat the oil in a large Dutch oven over medium-high heat. In batches, so as not to crowd the pan, sauté the chicken pieces skin side down first, about 5 minutes on each side. Remove the chicken to a plate.
Add the sausage to the pot to brown, about 3 to 4 minutes. (They will not be cooked all the way through at this point.) Remove to a cutting board, and cut into 1" pieces.
Sauté the bell peppers and onion for about 4 minutes. Add garlic and sauté for an additional minute or two., until everything is soft and just beginning to brown.
Return the sausage to the pot. Add the cherry peppers, potato slices, chicken broth, wine, vinegar, oregano, and season with salt and pepper. Gently fold all ingredients together. Transfer everything to a large roasting pan, and nestle the chicken in the vegetables and sausage. Roast everything in the oven for a half of an hour, when the chicken and sausages should be cooked through, and the sauce will have reduced slightly.
Recommended Products
As an Amazon Associate and member of other affiliate programs, I earn from qualifying purchases.
Nutrition Information:
Yield:
6
Serving Size:
1
Amount Per Serving:
Calories:

746
Total Fat:

23g
Saturated Fat:

7g
Trans Fat:

0g
Unsaturated Fat:

14g
Cholesterol:

246mg
Sodium:

1131mg
Carbohydrates:

34g
Fiber:

4g
Sugar:

4g
Protein:

93g
I think this meal goes best with just a simple salad and a loaf of Italian bread. Enjoy, and let me know how it turned out!