This post contains links that, if you click on them and make a purchase, will earn me money. Regardless, I only recommend products or services that I believe will be good for my readers. Thanks for helping me continue to produce great content!
Since I attended Nashville's Music City Food + Wine Festival this year, I thought my readers would enjoy hearing about it. I'll describe my experience, of course, but I also hope to provide helpful information for those planning to attend a future event. That way, you'll have the facts you need to know, before you go.
Although I was given a press pass to attend this event, (after I practically begged for one) all thoughts and opinions are 100% mine own. As usual.
Because a picture is worth a thousand words, let's start off with a quick video my husband shot, edited, and scored, shall we? I think this captures the overall flavor of the festival, in about one minute.
The Food
Restauranteurs, food purveyors, local chefs, and internationally famous celebrity chefs all descend on Nashville in one deliciously fell swoop to strut their culinary stuff on the weekend of the Music City Food + Wine Festival. Cheesemakers (blessed are they), those who make specialty meats, chocolatiers, all bring their wares to be sampled, bit by bit, bite by bite.
Here's an image of Grilled Chicken and Shishito Peppers. The chicken was good, but for me, this will always be the plate where I discovered how luscious a simply but generously seasoned blistered shishito pepper could be. As I recall this plate came from Jason Dady, the chef manning the fire pits and grills.
The Wine
First off, it's not JUST wine. That's one thing you might like to know, before you go. There were a lot of major spirits, beers and craft beers represented, as well as wine. Hendricks, Titos, Guinness, Angry Orchard, Makers Mark, and many more had a presence at the event.
As to the wine, I ain't gonna lie to ya. To my palate, there was some good stuff, and there was some not so good stuff.
But I'm not one to yuck anybody else's yum. And what I thought abysmal might be the total schizz for you, so….
Let's just say there's something for everyone.
But one of my favorite parts of the event centered around two wine tastings conducted by the inimitable Helen Johannesen, of Helen's Wines, the dopest wine shop in Los Angeles, at the back of Jon and Vinny's Italian restaurants in Brentwood and on Fairfax.
I was looking forward to meeting celebrity chefs, but Helen WAS the highlight of the event for me. And if the folks who run the Food + Wine festivals throughout the country are smart, they'll pay her tons of money and invite her to every event they run. She may be small, but she is MIGHTY!
Helen GETS, like no one else I've ever met before, the importance of smaller artisanally created wines. She focuses on naturally-driven and organically farmed labels, small production vineyards, and wines created by wine makers with integrity.
If you want the delightful experience of learning from Helen yourself, Helen has a podcast for those of us who are eager to learn more about wine, called Wine Face. Prepare to learn, and laugh yourself silly, all at the same time.
If you want your OWN tastings of dope wines, join Helen's Wine Club, WITHOUT DELAY, and thank me with showers of kisses, later.
The Talent
Sooooo many celebrities…so many photo ops….so little time….
The talent was impressive. Let me name just a few you might have heard of: the guy who started the festival, Jonathan Waxman, Rick Bayless, Martina McBride (yes, she cooks, and has a cookbook!!!), Scott Conant, Aaron Sanchez, Carla Hall, Kathie Lee Gifford, and two of my favorite local chefs, Deb Paquette of Etch, and etc. , and Nick Pellegrino of Mangia Nashville.
Here are a few photo ops I grabbed while I could. And by grabbed…I mean you, Tyler Florence. And I know you were just kidding about that restraining order. Such a joker, that Ty.
Rick Bayless entertained and educated his audience on Saturday afternoon, at his Master Class on Guacamole. You can't imagine how many helpful tips he packed into his demo!
What Should I Wear to the Music City Food + Wine Festival?
It's an outdoor event, so be sure to check Nashville's weather. This past September, we nearly perished in the unusually hot (even for Nashville) weather. It was in the high 90's.
The good news: there were tubs of bottled waters everywhere, so you could EASILY stay hydrated, as you tasted and drank your way through the tents.
More good news: it's a pretty casual event. Shorts would be fine on Friday evening or Saturday during the day, assuming they fit Nashville's weather in late September, when you come. If you'd like to, you can dress it up a bit more for Saturday night, when the Harvest Night celebration occurs. With outdoor live music, and the best food being offered by the best chefs, Harvest Night was my favorite part of the event.
How Do I Get Tickets to the Music City Food + Wine Festival?
The Music City Food + Wine Festival has a most excellent website, and you'll find all the details for obtaining tickets there. You can purchase tickets for the entire event, or tickets for individual events. If you sign up on their elist, you'll receive notifications when tickets become available for the next event.
What Should I Attend, if I Can Only Attend One Event?
Well, it depends on your priorities.
If keeping expense low your biggest consideration, then obviously, Sunday's Gospel Brunch has the lowest priced ticket. I didn't attend it, because tickets had completely sold out. I suspect it's not so much that people are really into drinking on Sunday mornings, as it is that that event has the lowest priced tickets. And who doesn't love bluesy, heartfelt live gospel music?
For my part, I was offered a press pass, and was grateful to get it, so I paid nothing.
If eating the most delicious food is your priority, or if you're longing to taste the food of the big name chefs, to see if it's really better, then I recommend a ticket to Harvest Night. The food was consistently delicious, from tent to tent. The best and most famous chefs actually cooked and assembled their dishes right there, to serve on Saturday night, each in their own tent.
I mentally did my own little ambulatory version of "Chopped", tasting each chef's offering. While there were no bad bites, Scott Conant's Gnudi blew everyone else's dishes out of the water, as far as my palate was concerned.
And since the weekend's weather had been hotter than blue blazes, it was lovely to stroll around in a relatively cooler environment. So, there's that.
And while I loved the live music of Harvest Night, I did have to wonder why a band from Chicago was featured, when Nashville has arguably the deepest bench for musical talent of any city in the nation. I would have liked the festival to have done a better job of celebrating Nashville musicians, since it's even NAMED the Music City Food + Wine Festival. After all, people attending this event came quite literally from all over the country. They'd no doubt like to get more of a flavor of our fine city while they're here.
However, if you want to to taste the widest array of foods, wines, beers, and spirits, as well as view cooking demos, and buy a cookbook and get it signed, then Friday night or Saturday's day events at Bicentennial Mall would be your gig.
Had I not attended those, I would never have met the lovely Helen, of Helen's wine, which would have been a true loss, indeed! Nor would I have seen Martina McBride and Tyler Florence make meatballs. Nor Rick Bayless do his Master Class on Guacamole.
Venues and Parking
Friday night and Saturday's daytime events both take place at Bicentennial Park.
On Saturday, guests may park for free in the state employee parking lot located at the corner of 6th Avenue and Harrison Street. Parking that meets standards for the Americans with Disabilities Act (ADA parking) is available on a first-come first-served basis at the corner of 5th Avenue North and Harrison Street for persons with a state issued license plate, placard or decal.
Saturday night's event, Harvest Night, as well as Sunday morning's event, the Gospel Brunch, take place at a different venue: downtown, at the Walk of Fame Park, near the Country Music Hall of Fame, and the Schermerhorn Symphony Center.
If you want to be careful to not drink and drive, (and you SHOULD be careful) consider using the local service we chose to use, Nash Rides. We found them to be friendly, courteous, punctual, and affordable. And, they very often have special savings deals around special events, so be sure to look for those.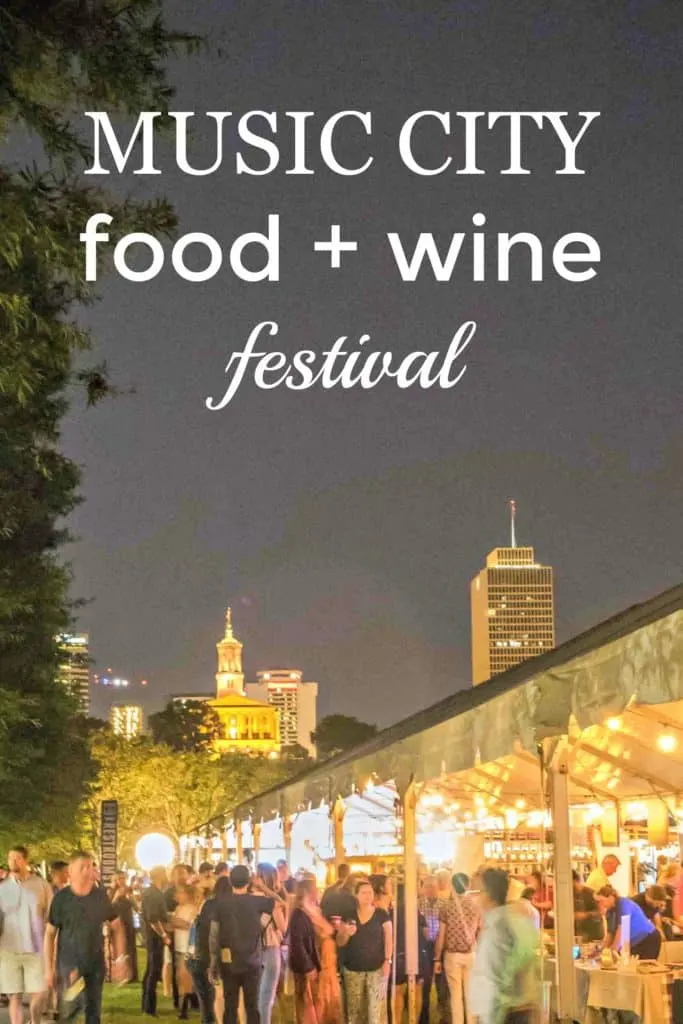 If you think you'd like to attend the next Music City Food + Wine Festival, save this pin to your Bucket List on Pinterest! Or share it with a friend, however and wherever you enjoy sharing ideas on social media.