This post contains links that, if you click on them and make a purchase, will earn me money. Regardless, I only recommend products or services that I believe will be good for my readers. Thanks for helping me continue to produce great content!
Welcome to Grilling Week on My Website!
We've been eating pretty well around here since grilling season started. I've been trying some new recipes that sounded delicious to me, and changing them up a bit, just to put my own spin on them, and I've found some winners that I'd like to share with you: couple of side dishes, and a glorious rub that is a KEEPER.
Should be lots of fun and some great recipes, too, so let's get started!
Watermelon Salad with Arugula
Today's recipe I stumbled across one afternoon while watching the Barefoot Contessa. A watermelon salad with greens, it seemed like the perfect recipe to accompany something on the grill: so easy and delicious that it sounded like a must-try! And then, I remembered I had some leftover Spicy Honey Mustard-Glazed Pancetta in my refrigerator.
Just the usual type leftover one has in one's fridge, right? (Kidding!) I had tried this Giada De Laurentiis recipe a day or two earlier, but it wasn't quite as perfect as I'd hoped it would be, just because it was too salty thick and chewy for my family. But, I thought to myself, "Salty, crunchy, spicy.. .could be kinda treated like crumbled bacon! What a great foil that would be for the sweet refreshing coolness of the watermelon!
So…I guess…to be fair…I'd better give you both recipes. Since this is Grilling Week, and I'm talking about dishes specifically for a cookout, I really think you COULD (although I haven't) do the pancetta on the grill. I hope someone tries it and gets back with me. Simply brown the pancetta on the grill, (or in a cast iron skillet, on the grill) and brush it with the glaze, and letting it quickly finish on the grill (be careful, because the sugars in the honey will burn, quickly). The slices of pancetta that I used in these pictures, I had already prepared in the oven, according to Giada's recipe, and they were leftover, so I just chopped them up and threw them on the salad. So, you could do it either way, I think.
The Barefoot Contessa's original recipe called for 1/2 lb. of arugula, but all I had was a baby spinach arugula blend. It was perfect, and I'd do that all over again, so that's what I'm going to put in my adaptation. The arugula adds a nice bitterness against the watermelon, but I'm sure you could substitute another nice blend of salad greens, if you have one you prefer, or if you don't care for arugula.
Here's my adaptation of the Barefoot Contessa's recipe for Watermelon and Arugula Salad (that I dolled up with my pancetta – and, by the by, you could just as easily use bacon):
The Recipe for Watermelon Arugula Salad with Pancetta
Yield: 4 servings
Watermelon Arugula and Pancetta Salad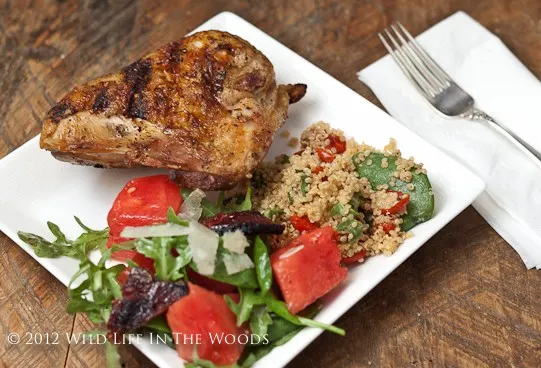 Refreshing sweetness from the watermelon, and salty savoriness from the pancetta are the perfect complement to the slightly bitter crunchiness of the arugula and spinach. This is a heavenly summer salad, and exactly right for whatever you're grilling.
Ingredients
FOR THE SALAD:
1/2 lb. baby arugula and baby spinach blend of salad greens
2 lbs. of seedless watermelon, cut into bite-sized chunks
Spicy Honey Mustard-Glazed Pancetta/Bacon Slices, cut up into bite-sized pieces
1 oz shaved Parmesan cheese, shaved from a wedge of Parmigiano Reggiano with a vegetable peeler, as a garnish
FOR THE VINAIGRETTE:
1/3 c. olive oil
1/4 c. freshly squeezed lemon juice
1 teaspoon sea salt
1/2 teaspoon freshly ground black pepper
Instructions
Place the arugula and watermelon in a large bowl.
In a small bowl, whisk together the olive oil, lemon juice, salt, and pepper. Pour enough dressing on the salad to moisten. Toss well and divide onto salad plates.
With a sharp knife or a vegetable peeler, shave the Parmesan into large strips, and sprinkle them, and the pancetta bits on top of the arugula and watermelon.
Notes
I think bacon would be every bit as good as pancetta, so use what you have!
Recommended Products
As an Amazon Associate and member of other affiliate programs, I earn from qualifying purchases.
Nutrition Information:
Yield:
4
Serving Size:
1
Amount Per Serving:
Calories:

409
Total Fat:

31g
Saturated Fat:

7g
Trans Fat:

0g
Unsaturated Fat:

23g
Cholesterol:

23mg
Sodium:

913mg
Carbohydrates:

27g
Fiber:

4g
Sugar:

18g
Protein:

10g
One Fourth of An Inch is Too Thick of a Slice of Pancetta
One more note about Giada's recipe for the pancetta: It called for the pancetta to be sliced 1/8 to 1/4″ thick. I asked the deli to slice mine 1/4″ thick. Next time I do this recipe, I'm going to have them cut it thinner. The saltiness was too intense, and the meat got too chewy. I think I'd rather have thin and crisp on this salad than thick and chewy, because thick and chewy became more like jerky. And, the recipe that I'm going to give you for this is half her original recipe in quantity, because in this salad, the pancetta is more of an embellishment, than a key dish component.
Here's my adaptation of Giada's recipe for:
The Recipe for Spicy Honey Mustard Glazed Pancetta
Yield: 4 servings
Spicy Honey Mustard Glazed Pancetta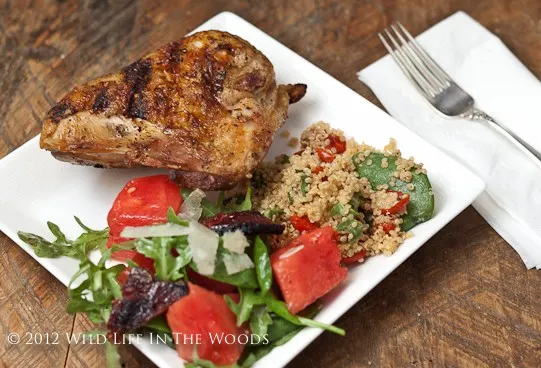 A salty, crunchy garnish that goes great with watermelon arugula salad.
Ingredients
1/2 lb. pancetta or bacon, sliced 1/8" thick
3 tablespoons honey
1 tablespoon Dijon mustard
1/8 teaspoon cayenne pepper
Instructions
Pre-heat the oven to 450º. Line a rimmed baking sheet with parchment paper. (Alternatively, you could do this on the grill.)
Arrange the pancetta in a single layer on the baking sheet. Bake/grill until crisp, 16 to 18 minutes in the oven. Remove the pancetta from the oven and heat the broiler. (Or remove from grill)
In a small bowl, mix together the honey, mustard and cayenne pepper until smooth. Brush the pancetta with the honey mixture, and then broil until browned, 2 - 4 minutes. (For the grill directions? You're on your own, since I haven't done it, but I would guess it would be easy to judge from appearance.)


Recommended Products
As an Amazon Associate and member of other affiliate programs, I earn from qualifying purchases.
Nutrition Information:
Yield:
4 servings
Serving Size:
1
Amount Per Serving:
Calories:

385
Total Fat:

33g
Saturated Fat:

12g
Trans Fat:

0g
Unsaturated Fat:

19g
Cholesterol:

49mg
Sodium:

265mg
Carbohydrates:

13g
Fiber:

0g
Sugar:

13g
Protein:

8g
So…this is the good stuff that was leftover in my fridge that I put on the Barefoot Contessa's salad. Oh, my, was it all divine together!
Cutting up the Spicy Honey Mustard Glazed Pancetta. I treated it in this salad like it was a bacon garnish. But what a bacon it was!!! Mmmmm….
I think this would be a good recipe to save and to pin on Pinterest, don't you? I made the perfect image for you, so you could easily do just that!