This post contains links that, if you click on them and make a purchase, will earn me money. As an Amazon Associate, I earn from qualifying purchases. . Regardless, I only recommend products or services that I believe will be good for my readers. Thanks for helping me continue to produce great content!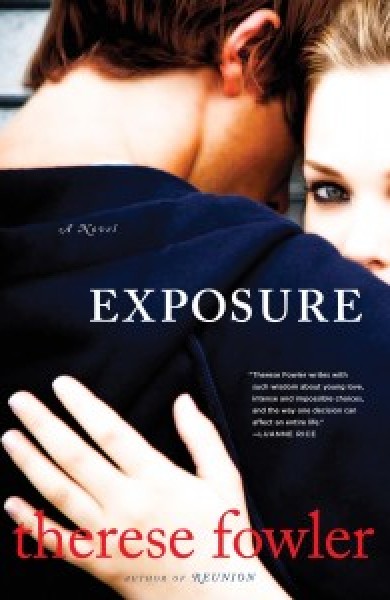 I just finished reading a novel entitled Exposure,
whose premise I found to be extremely thought provoking, as a parent of teenaged children.
Without giving away any important plot elements that are not mentioned on the cover of the book, the story revolves around a young teenaged couple who have fallen in love, and who have become sexually intimate. The young man is 18, the young woman is 17. They have kept their relationship a secret from the girl's very protective father. Failing to anticipate some of the potential repercussions the girl makes a foolish request: she asks the young man to send her a picture of himself, unclothed.
What follows is a firestorm of unforeseen consequences that affect not only the present and future lives of the young couple, but also the lives of their parents and friends as well.
As a parent of teenagers, I sensed a deep level of authenticity in this book, particularly in the voice of the mother of the young man, as she processes not only her worries and fears for her son, but also her feelings of self-doubt and recrimination in regard to the quality of her own parenting of that son. Teenagers in general very often believe in the myth of their own invincibility. To their way of viewing life, what happens to others will never touch them. They are wiser than the idiots who have suffered negative consequences in the tales their parents have "concocted" to try to scare them.
Indeed, scientists tell us that the prefrontal cortex , the part of the brain that allows humans to anticipate and predict negative consequences from our behavior does not fully develop until age 25.
"This brain region gives an individual the capacity to exercise "good judgment" when presented with difficult life situations. Brain research indicating that brain development is not complete until near the age of 25, refers specifically to the development of the prefrontal cortex."
(Now, anyone who parents a teenager knows this to be true intuitively, but it's always nice when actual scientific findings back up one's own anecdotal experience.)
For me, the book had a bit of a slow, overly romanticized start, but the plot picked up nicely toward the last third of the book, and I devoured the last section of it, eager to learn how the conflict would be resolved.
Particularly in light of the recent scandal in the news involving one of our own U.S. Congressmen, this book is extremely timely, and will give parents of teenagers plenty of food for thought in regard to conversations they may wish to have with their children in regard to social media in general, and the power and potentially life altering consequences of the images and information that we transmit through them. (There's plenty here for bloggers to think about us well!)
I received this book courtesy of SITSbook club. All opinions are my own. If you're interested in reading and discussing this amazingly relevant-to-what's-happening-today book, we'll be having a Twitter party book club, on July 14, from 8-9PM, CST, at #SITSbook club. The SITSgirls are a blogging network/support organization that I have really been enjoying participating in. Come join us!