This post contains links that, if you click on them and make a purchase, will earn me money. As an Amazon Associate, I earn from qualifying purchases. . Regardless, I only recommend products or services that I believe will be good for my readers. Thanks for helping me continue to produce great content!
First order of business: no, I haven't forgotten about the coffee bean giveaway. But we've hit a little obstacle in the bean roasting process. Our gas grill, which was down to only working on the spare burner, finally gave up the ghost. May it rest in pieces, preferably somewhere other than my patio. So, we've been forced to rely on local coffee bean roasters in town for the last week or so. And, I have to say, my hubby, the Big Bison really, really knows what he's doing – I prefer his beans to the other two types we've tried so far.
So, anyway, we ordered an outdoor camp stove/burner type of thing JUST for roasting beans, and we've been tracking its shipping progress. It seems to have reached our local Walmart, so I suspect the BB will be picking it up soon, and resuming roasting operations before you can say, "Honey, would you mind fixing me a cuppa Joe?". So, rather than making the winner wait impatiently on her fresh-roasted coffee beans, I'll make all of you wait! So much better that way! (I really haven't chosen the winning question yet, so there's still time to enter if you'd like.)
But I've had a St. Patty's day post on my mind that I wanted to publish before the day, so that YOU have time to do a little grocery shopping, if you decide you'd like to give it a try. Every St. Patrick's day, I make this recipe of Corned Beef and Cabbage, and Champ (Irish style mashed potatoes) and Irish soda bread, and the whole family loves and looks forward to it. And since I discovered a couple of years ago that I actually have more than a wee bit o' the Irish blood runnin' through me veins (sorry – my brain just lapsed into an Irish brogue – hope you can hear it yerself in yer own brain), I think it only right and proper that I share the love.
Erin go bragh!
Or go braless! What do I care? Because I'm gonna have me some corned beef.
I got this recipe on the epicurious.com website, but I have altered it some, just because I wanted to. It was originally published in House & Garden magazine, and the recipe was given to them by James Beard, one of the Founding Foodie Fathers of the Food Revolution that's been going on for a while now. Vive La Révolution! (Uh oh. Wrong culture.) Anyway, it was published in 1965. Now I know what you're thinking: can any recipe that comes out of the '60's be good? Oh, ye of little faith! Would Sooze steer you wrong? You know I wouldn't!
I think today, I'll give you my recipe for Corned Beef and Cabbage, and for the Horseradish Sauce that I make to go with it, and if you're really nice, and leave me a comment with your thoughts on corned beef, tomorrow I'll give you another recipe for St. Patrick's Day. How would that be?
This recipe is so EASY. Easy, easy, easy. You need a big pot, a few swipes of the knife, and you're In Like Flynn. Was he Irish?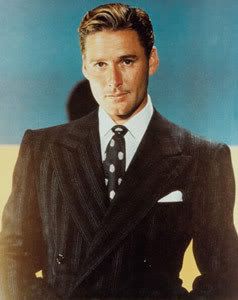 How'dja like to sit down to share a little corned beef with this guy?
I googled. Indeed he was. About as much as I am. Born in Tasmania, parents who were native Australians, of Irish descent. Ya see? If that ain't 6º of separation, I don't know what is. Corned beef and cabbage is pretty much the food of the common man, but honestly, with the prices of beef today, it's gotten a little bit more daunting. You'll be tempted to buy the smallest package of corned beef that you can find, just to save money. That happens to me every year! And every year, I always regret buying the smallest piece, because #1) this is so yummy, it will probably be all gobbled up, and #2) when my kids were small and we DID have leftovers, I made a fabulous Corned Beef on Rye Sandwich with Carmelized Onions and Sauerkraut that was good enough to make you want to turn around and smack your Momma. So, if you want that recipe as well, you're just going to have to beg me for it.
In the meantime:
Corned Beef and Cabbage à la James Beard
5 pounds corned brisket of beef (I never buy that much; I think most packages are closer to 3 lbs.)
6 peppercorns, or packaged pickling spices (these come inside your package of corned beef; don't be afraid to use them; there's usually a bay leaf in there, too)
3 carrots, peeled and quartered (or more, if you like)
3 onions, peeled and quartered
1 medium sized green cabbage, cut into wedges (I always feel like I end up with too much cabbage, and not enough carrots, so adjust according to what you like)
4 T. melted butter (although this much may be overkill – I don't usually use that much – it's a fatty meat)
Place the corned beef in water to cover with the peppercorns or mixed pickling spices.
Cover the pot, (you'll need a big one), bring to a boil, reduce heat and simmer 5 hours or until tender, skimming occasionally. During the last hour, add the carrots and onions and cover again. During the last 15 minutes, add the cabbage. Transfer meat and vegetables to a platter and brush the vegetables with the melted butter.
Horseradish Sauce
James Beard didn't suggest this, but we love it with the corned beef. The horseradish adds such a nice ZING! Just need a small spoonful on the side to dip your meat into. I also serve this on the side at Christmas when we have a standing rib roast.
1 c. whipping cream
1 T. prepared horseradish (you'll find it in jars in the refrigerated section of your supermarket)
1/2 c. mayonnaise
1 T. Dijon mustard
pinch of sugar
Whip cream till peaks form; fold in the rest of the ingredients.