This post contains links that, if you click on them and make a purchase, will earn me money. As an Amazon Associate, I earn from qualifying purchases. . Regardless, I only recommend products or services that I believe will be good for my readers. Thanks for helping me continue to produce great content!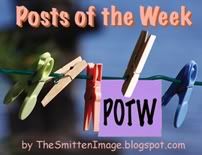 "
I'm really honored and Totally Not Worthy to have gotten an honorable mention as "A Good Laugh" over at Hilary's gorgeous blog, The Smitten Image. This is my third nod from Hillary, and I'm starting to suspect that this might be her way of being nice to the pitiful girl in the class. You know, the one who does stupid stuff like stepping in dog poop?

Whatever her true motivation: Long may she smite me, that's what I say.
Also, I posted a killer recipe for EASY Spinach Salad with Dried Cherries and Pepitas over on the Fun Girls. Are you following the Fun Girls yet? They are SOOOO much more fun and interesting than I am. What are you even DOING here, anyway?