This post contains links that, if you click on them and make a purchase, will earn me money. Regardless, I only recommend products or services that I believe will be good for my readers. Thanks for helping me continue to produce great content!
Comcast Cable Communications Management, LLC, through its contractor, Mom Central Consulting, www.momcentralconsulting.com provided a promotional item as a thank you to the blogger who made this post for participating in this campaign. The opinions and experiences expressed in this post are solely the bloggers opinions, based on the blogger's experiences and do not reflect any positions or opinions of Comcast Communications Management, LLC.
The summer of my fifth year, my Mom and Dad drug drove our family of six on a cross country trip to see the USA, in a 1957 Chrysler New Yorker. The only air conditioning "Lizzie" possessed was what my Dad called 4/60 air conditioning: four windows down, going sixty miles an hour. Because I was so young at the time, I possess very few memories of that trip.
I do remember that I rode up front, between Mom and Dad, on the bench seat. I also remember being so unbelievably hot, that Mom would take those brown paper towels you'd pick up at gas station rest rooms, and wet them with ice water that came from the plaid Thermos jug that rode in the floor by her feet. She'd lay those cool towels across my forehead, to try to give me some relief from the brutal heat of driving across the Mojave desert.
The other day my girlfriend was telling me about a trip she was planning to take with her family across the country. "Is this feasible?" she asked. "Can I do this? Any practical suggestions for me?".
After having a momentary flashback to those not-so-fun dying-from-heat-stroke memories, I decided to refrain from any "back in my day" stories, and actually give her some ENCOURAGING, PRACTICAL suggestions, that I just recently stumbled across, myself.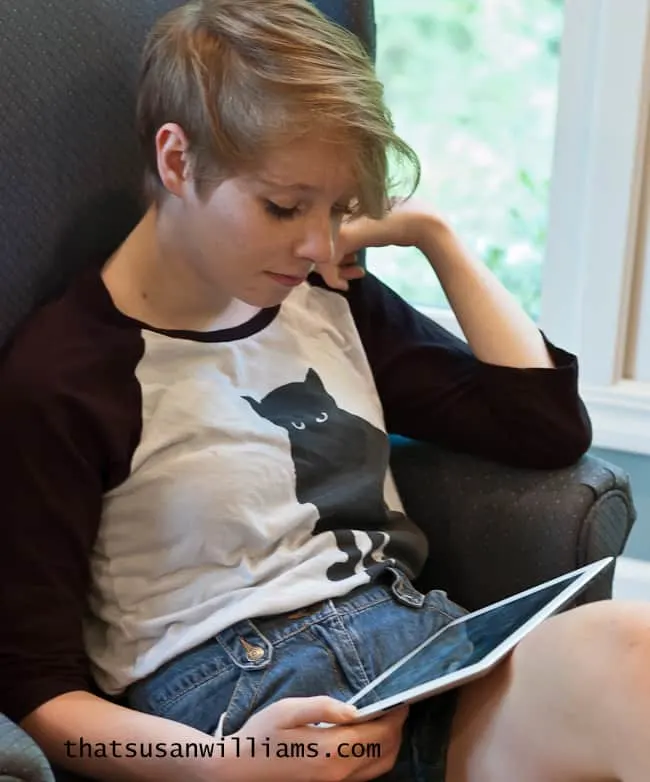 Road Trip Magic
If you are an XFINITY customer, and you have either a smart phone or a tablet/iPad, you have road trip magic at your fingertips, that you may be unaware of. I had to try this out for myself when I read about it, and guess what? It works!
Since I'm already an XFINITY Digital TV and Streampix subscriber, I have access to Comcast On Demand's catalog. The On Demand Function is already my primary means of keeping up with the TV shows that I watch. I love the freedom it buys me: I can watch most of the shows I like through it, and watch them WHEN I want to watch them. I don't have to be tied to an 8:00PM viewing time, where I have to drop everything else to watch a TV show.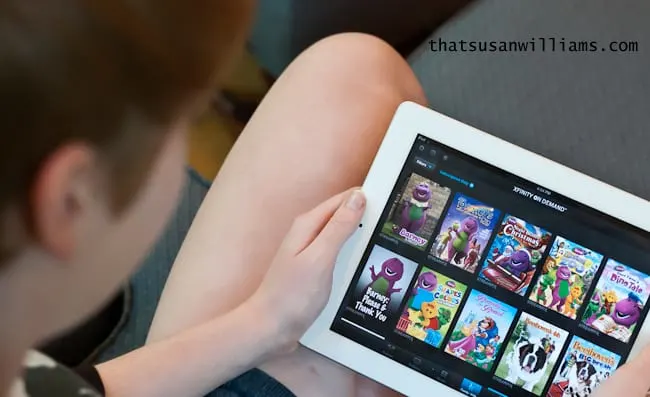 For families with younger children, there is an abundance of family friendly programming available on On Demand: Nickelodeon, Disney, Sprout, Cartoon Network, and PBS KIDS, just to name a few. Episodes of shows like Dora the Explorer, Angry Birds Toons, Micky Mouse Clubhouse and many, many more can be downloaded directly to tablets and smartphones, so that your kids can enjoy them where there is no internet connection. (Like, perhaps, while driving across some long, hot, dry, lonely stretch of …say… the Mojave Desert. Or in a comfortable air conditioned family truckster. Or in an airport waiting area. Or while sitting in a cramped airplane seat. )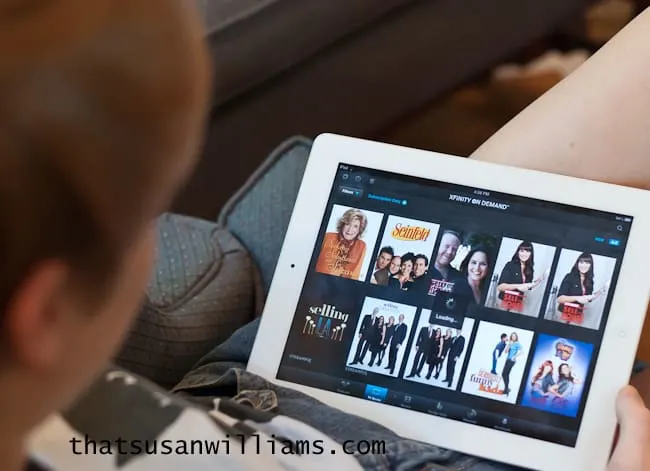 How to Access Downloadable Programming Through Your Mobile Device
I decided to try the technology out for myself, to see if it really worked on my own iPad. The first thing I had to do to access this road trip magic was to download something called the XFinity TV Player App on my iPad. That took maybe 30 seconds. Easy peasy.
Then, it was simply a matter of setting my search filter on that device to only show me content that was downloadable. Here's a slideshow that will walk you through the process: https://bit.ly/13mDFPW
Because I was testing this for myself, and I don't have young children, I decided to look at programming NOT located in the Family Friendly section, but to see if there were any shows I had never watched before that I was curious about, and download one of those.
I downloaded Dexter.
(Stop laughing. I mean it.) I'm going to NOT recommend this show for your children (prude that I am). I might not recommend this show to myself, either. But I will say that the process itself worked easily and seamlessly. It took a few minutes for the show itself to download. I got a little warning in my iPad that my device's memory was coming close to being used up. I chose the medium quality video setting, just to see if that would interfere with my viewing experience. . It did not. When the show was over I went back to the TV app, where I was able to delete the show from my iPad, and free up that memory again.
If you plan to use this great technology for your kids, you should know that there are parental controls that are there to help you find age appropriate content for your children. Common Sense Media has partnered with Xfinity TV to help you make informed choices through a media ratings system based on child development guidelines. You can filter the kids' content by age, and most-watched on Xfinity On Demand.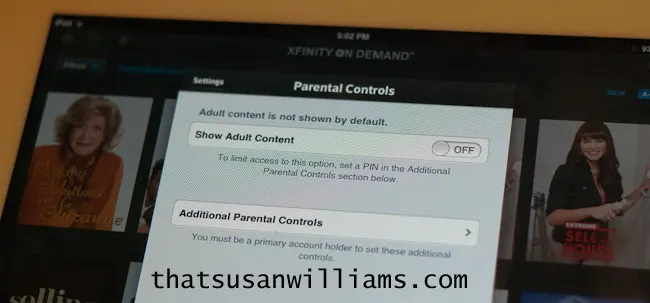 On your Settings (the little gear icon on the upper left hand corner of the screen) you can set any Parental Controls you might desire on your mobile device(s). I was first prompted to set up a 4 digit parental controls pin number. From there, I was given options to put locks on what things can be viewed from our mobile device. It's kind of like building a fence, so your kids can't watch certain programming. There are three categories that will help you as the parent decide which types of programming are "out of bounds": TV ratings, movie ratings, and also, entire networks can be blocked.
Here's a link that will help you get started trying out this service for yourself: www.Xfinity.com/summerofkids
How about you? Got any upcoming road trips where you can imagine this technology coming in handy?
If you know someone who has an upcoming trip, be sure to share this post with them on Facebook or Twitter, or pin it on Pinterest to remind yourself how to access this technology yourself.